Dogs love to play with toys. Playing is good for dogs, it keeps them in shape. Dogs also learn about things by playing with their owners. Forget about dogs for a second, playing with a dog can be the best stress-buster for a human dog parent.
Here are my tips for how to teach your dog to play with toys.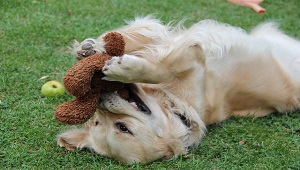 Find a good toy for your dog. Some toys can harm your dog as they are toxic, so find a toy that does not bleed color and made from natural ingredients only.
Round small balls are best for dogs. Your dog should able to hold the toy in his mouth.
First take the toy in your hand and play with it in front of your dog. The idea is to show your dog how much fun it is.
Now after playing for sometimes, throw the ball in your dog's direction.
Say "go and get it", if your dog gets up and runs towards the toy, it means he is interested in playing with the toy. If he does not, then you have to play some more times in front of him.
You need to keep practicing this process at least for a week. Start this toy training process inside your home, after some days play with him outside.
Start with a ten/twenty minute playing session, and slowly increase the time. Say the words" good job today" after each play session.
Dogs are like human babies, they get bored very quickly. You have to purchase new toys for him every month, otherwise he will stop playing.
Do not ever force your dog to play; it will do more harm than good.
If you have two dogs, then you do not have to work hard, as after sometimes dogs will play with each other.
There is nothing more relaxing than a short play session with your dog. These days, dogs do not get required physical exercise because they stay in an apartment. Exercise is must even for dogs. This is why you should teach your dog to play.