Reputation
You need to find a place which has a good reputation. Ask your local friends who have dogs. I am sure at least one of them used a local dog boarding facility. These friends can tell you if you can trust the place.
Talk and understand
Most people give away their true personality during long talks. Go and talk to the local dog boarding company employees to know what kind people they are. Remember, only a sensitive person can take care of your dog well.
Facilities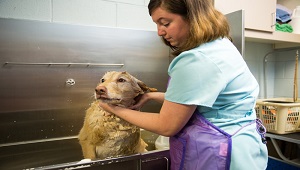 Do not trust what others have to say, go and take a look, see if the dog boarding company has all the right facilities. A good dog care center needs to have clean rooms, comfortable dog beds, and playground.
Insurance
You need to find out if the dog boarding company is insured or not. An insured place is always more trustworthy.
Genuine care
You are not going to be there for a while. You need to make sure people who will take care of your dog, genuinely love dogs.
This is it; take your dog to the place for before you leave him there. It will make him familiar with the place.